If you've tried multiple treatments for your chronic neuropathic pain but haven't found relief, you may be a candidate for the COMFORT clinical trial. This peripheral nerve stimulation clinical trial compares the FDA-cleared Nalu system combined with conventional treatments to conventional treatments alone.
Your doctor will determine if you're a good candidate for the Nalu COMFORT clinical trial. And, your involvement in this study for the treatment of nerve pain can also benefit other patients and help us improve the treatment of chronic pain. Eligible participants will also be compensated for their time.
How It Works
If you suffer from chronic pain, you may have tried a variety of pain relief options such as physical therapy and medication. If these treatments have not relieved your pain, peripheral nerve stimulation is another option.
With the Nalu peripheral nerve stimulation (PNS) system, wire leads are connected to a small battery-free implantable pulse generator (micro-IPG) that's powered by a discreet external Therapy Disc. This system delivers mild electrical impulses that can block pain signals before they reach your brain.
The PNS Device
The peripheral nerve stimulation device is designed to be:
Durable: The Nalu micro-IPG is cleared by the FDA for a service life of 18 years—the longest among commercially available IPGs in the U.S.
Livable: The system is designed to be discreet
Comfortable: The doctor will place the micro-IPG where it is most comfortable for you
Manageable: With two Therapy Discs, wear one while the other is charging, then switch them when convenient
Adaptable: The system is designed for patients to control intensity and type of therapy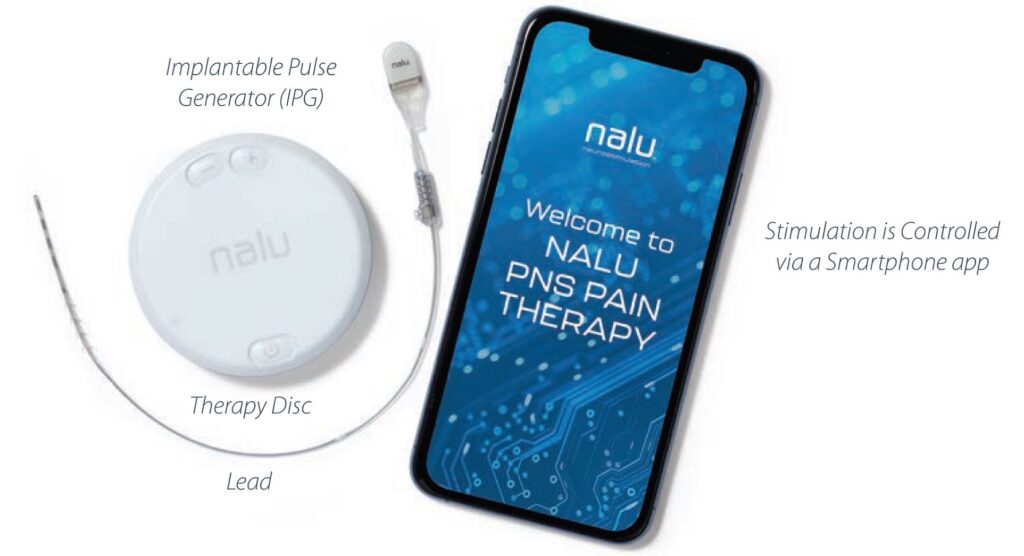 What To Expect
If your doctor decides peripheral nerve stimulation is right for you, and you meet study criteria, you may be enrolled in the COMFORT clinical trial. You may be randomized to receive the stimulation implant or stay with your current treatment regimen. If the latter, then you may be eligible for the stimulation implant after three months.
If you receive the stimulation implant, you'll first try the system on a temporary basis.
Step 1: Wear experience
This step is designed to make sure you are comfortable with the device wearables.
During this assessment period, you will wear an adhesive clip and non-functioning Therapy Disc in various positions to determine the best location of the Therapy Disc and micro-IPG for your comfort and lifestyle.
Step 2: Therapy trial
To begin the trial, you will undergo a quick minimally invasive procedure to place thin wires (leads) near the nerve(s) identified by your doctor and connect them to an external stimulator.
During the therapy trial period, you and your doctor will evaluate the amount of your pain relief when you receive with the device. After the trial, the wires will be removed, and you and your doctor will decide if peripheral nerve stimulation is appropriate for you.
Step 3: Permanent implant
If the first two steps are successful, your doctor may perform a second minimally invasive procedure to permanently place leads and the micro-IPG in the optimal location to treat your pain.
You will be trained on how to control the device settings and intensity through an app on your smartphone.
Am I Eligible?  
If you have severe nerve-related chronic pain in the back, foot, knee, or shoulder, you may be a candidate for the Nalu COMFORT clinical trial. Find all study criteria here.
Contact An Enrolling Practice Near You
If you're interested in learning more about the Nalu COMFORT Trial, please use the following form to reach out to a practice location near you for more information.