Patients ·
Nalu Neurostimulation System
Battery-free Microstimulator
A device that is placed under the skin through a minimally invasive procedure.
An app on your smartphone that allows you to discretely adjust your therapy.
An external unit that both powers
and controls the microstimulator.
Benefits of Nalu Battery-free, Microstimulator
Up to 27x smaller than other neurostimulator devices.
Small device implanted under the skin.
Small size of microstimulator minimizes the chances that it is visible beneath
the skin. You can simply remove the Therapy Disc when you are not using it or
place it under your clothing when you need it.
No implanted batteries. Completely avoid the need for battery replacement
surgeries.
Science and technology change rapidly. The Therapy Disc can easily be
upgraded to the latest therapies without the need for surgery.
If at anytime you chose not to continue therapy, it is completely reversible.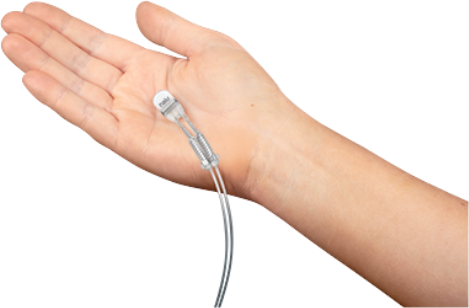 Neuromodulation is a well-established pain treatment used throughout the
world for over 30 years.
It includes a small implanted device that transmits mild electrical pulses to the
spinal cord. The pulses calm the nerves and reduces pain signals to the brain.
Neuromodulation does not require drugs or physical therapy to work.
Nalu Neuromodulation Implant Procedure
The process for implementing the Nalu Neuromodulation System is simple, minimally invasive and reversible.
It begins with temporary evaluation – so you can try before committing to a full system implant.
Unlike almost all other pain treatments,
you will get to try the therapy to see if it's
right for you.
Reversible, short procedure to place tiny,
flexible wires near the spine.
 Evaluate:
– Improvement in daily activities
– Pain relief
– Improvements in sleep
Wear a Therapy Disc to see if Nalu System
is right for you.
Most people find wearing the Therapy
Disc to be very comfortable and that after a
few days, the system "disappears".
Minimally invasive
The battery-free microstimulator will be
placed just under the skin in the location
you helped choose during your temporary
evaluation.
Always available therapy, when you
need it.
• You will have two Therapy Discs, one to
wear and one ready on the charger, so that
you will always have your Nalu Therapy
available.
• Discrete control through your
compatible smart phone.
Invisible, when you don't…
• The size of the microstimulator
ensures that when you don't need active
stimulation, you won't see the implant.
Frequently Asked Questions
1. Thomson, Simon. "Spinal Cord Stimulation for Neuropathic Pain", International Neuromodulation Society. Publised on April 24, 2016. www.neuromodulation.com/spinal-cord-stimulation-for-neuropathic-pain. Date Accessed: April 4, 2019. 2. Poree L, et al. Human Comfort and Feasability Data from a New, Miniturized SCS System. Study abstract presented at NANS 2019.
For more information on Nalu Therapy, talk to your doctor.